Therapeutic Areas and Products
VKA-related bleeding
Disease Background and Prevalence
Vitamin K antagonists (VKAs) are widely used for the primary and secondary prevention of venous and arterial thromboembolic events.
VKAs, such as warfarin, interfere with the y-carboxylation of the calcium-active binding sites for vitamin K-dependent proteins (including coagulation factors II, VII, IX and X), resulting in the reduction of clotting factors II, VII, IX, X as well as pro-coagulation proteins C and S.
The most common adverse reaction of warfarin is hemorrhage, accounting for approximately 29,000 emergency department visits per year.
There are up to 10,000 cases of warfarin-associated intracranial hemorrhage (ICH) in the US annually.
Patients on warfarin who experience head injury have a 40% higher risk of incurring ICH and a 2-fold higher risk of 30-day in-hospital mortality.
Gastrointestinal bleeding (GIB) accounts for 30% to 60% of the annual incidence of major bleeding complications, with up to one-third of GIB patients experiencing the first bleeding episode within 1 month of initiating anticoagulation and about 61% of GI bleeds occurring within the first year after initiating anticoagulation.
Warfarin reversal strategies include: fresh frozen plasma (FFP), vitamin K, prothrombin complex concentrates (PCC): (3 Factor PCC, non-activated 4 Factor PCC and activated 4F Factor PCC)
Kcentra®, Prothrombin Complex Concentrate (Human), is the only FDA-approved 4F-PCC for warfarin-related reversal in the setting of acute major bleeding and need for urgent surgery or procedure in adult patients.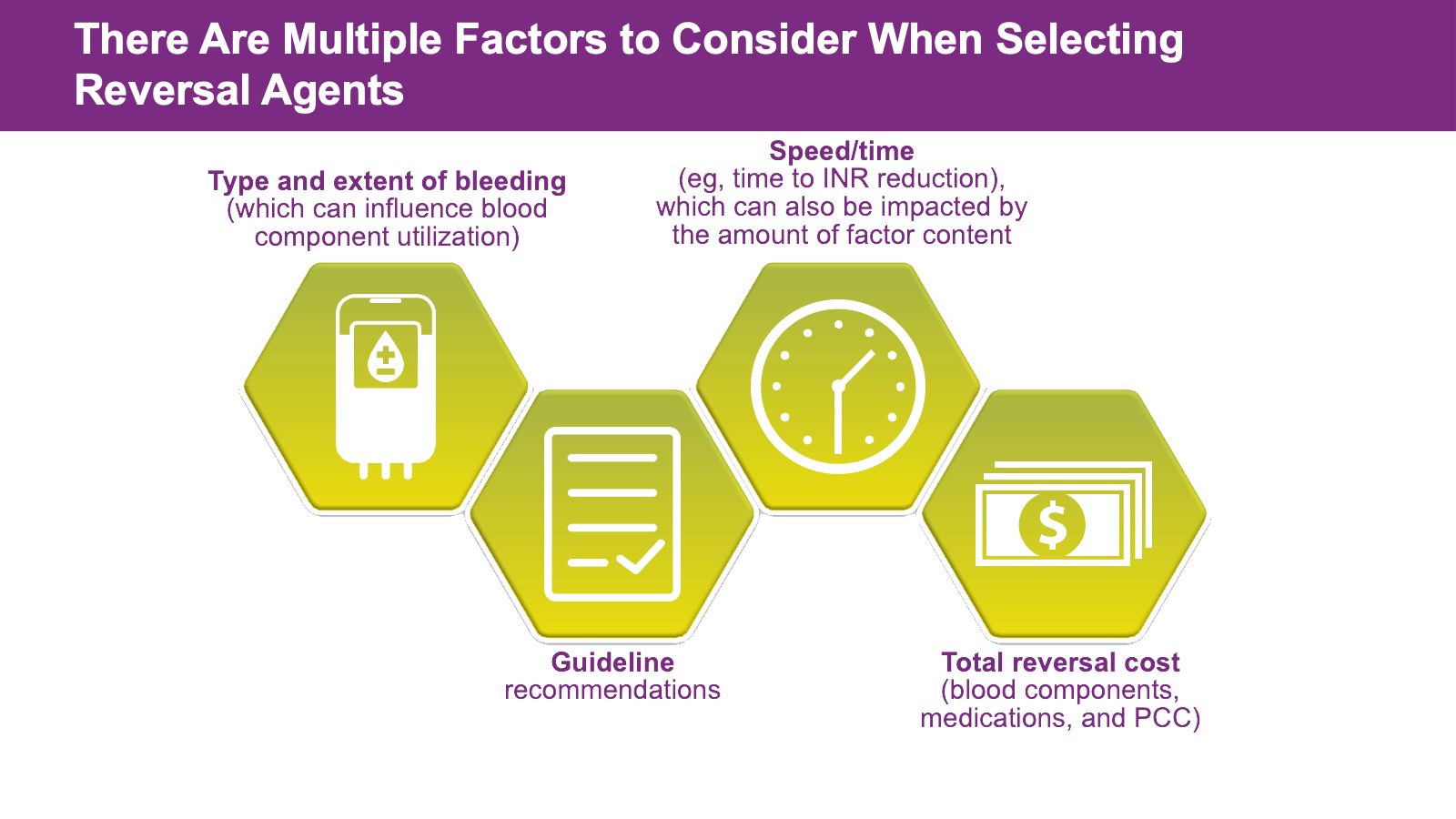 The prothrombin time (PT) test or International Normalized Ratio (INR), which is a standardized expression of the PT, is most commonly used to monitor VKA therapy.


The most common target INR is 2.0–3.0 for patients on warfarin; the INR range can vary depending on the indication when on VKA therapy.

In two pivotal clinical trials, the INR reduction target for VKA reversal was ≤1.3 at 0.5 hours after end of infusion

Multiple treatment guidelines recommend the use of 4F-PCC for urgent warfarin reversal in acute major bleeding and need for urgent surgery/invasive procedure including:

1. DeAngelo J et al. Am J Ther. 2018;25(3):e326-e332. 2. American Association of Blood Banks. Circular of information for the use of human blood and blood components. Bethesda, MD; November 2017. 3. National Patient Safety Goal for anticoagulant therapy. The Joint Commission website. Accessed June 4, 2020. https://www.jointcommission.org/-/media/tjc/newsletters/r3_19_anticoagulant_therapy_final2pdf.pdf. 4. Frumkin K. Ann Emerg Med. 2013;62:616-626. 5. Cleary JP et al. Ann Transplant. 2016;21:531-537. 5. Frontera JA et al. Neurocrit Care. 2016;24:6-46. 6. Holbrook A et al. Chest. 2012;141:e152S-e184S. 7. Acosta RD et al. Gastrointest Endosc. 2016;83:3-16. 8. Tomaselli GF et al. J Am Coll Cardiol. 2017;70:3042-3067. 9. Witt DM et al. Blood Adv. 2018;2:3257-3291. 10. Baugh CW et al. Ann Emerg Med. 2019;9:1-16. 11. American College of Surgeons. Advanced Trauma Life Support (ATLS) Student Course Manual. 10th ed. Chicago, IL: American College of Surgeons; 2018